And there came out from the camp of the Philistines a champion named Goliath of Gath, whose height was six cubits and a span. He had a helmet of bronze on his head, and he was armed with a coat of mail, and the weight of the coat was five thousand shekels of bronze. 6 And he had bronze armor on his legs, and a javelin of bronze slung between his shoulders. The shaft of his spear was like a weaver's beam, and his spear's head weighed six hundred shekels of iron. And his shield-bearer went before him. He stood and shouted to the ranks of Israel, "Why have you come out to draw up for battle? Am I not a Philistine, and are you not servants of Saul? Choose a man for yourselves, and let him come down to me.   (1 Samuel 17:4-8, ESV)
Goliath of Gath – one of the most interesting characters in the Bible. I have heard teachers say that Goliath was as much as eleven feet tall. They have described him on a scale that is simply gargantuan.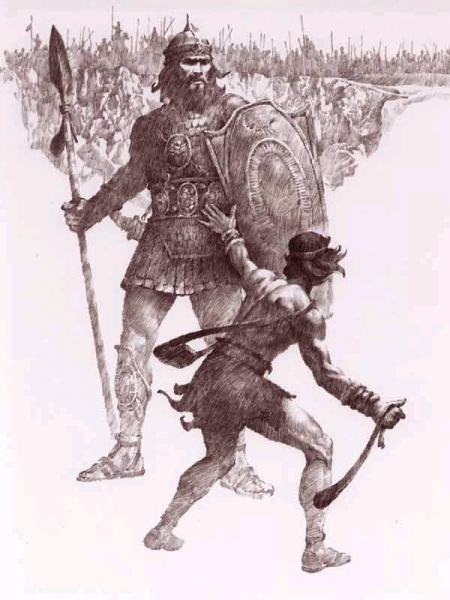 But I have a problem with that method of interpretation. I think that in our attempts to be literal, we have become impractical. Let's look at the description of Goliath and see if the text actually demands the interpretations often used.
Let's Convert the Measurements
Let's begin by converting these ancient measurements into modern scales, so we can speak frankly.
| | | |
| --- | --- | --- |
| Height | 6 cubits, 1 span | 93-126 in or 7.75-10.5 ft |
| Coat of Mail | 5,000 shekels of bronze | 125 lbs |
| Shaft of his spear | As a weaver's beam | About 2-2.5 in diameter |
| Spearhead | 600 shekels of iron | A little over 15 lbs |
Now we can put these things in perspective. Let me deal briefly with his weaponry and then we can address his height.
The Armor
The only really recognizable piece of Goliath's armor is his helmet of bronze. This term appears all over the Scriptures, and it seems to have been generally recognized and understood as a type of skullcap. It was not a full-face helmet, like that worn by the Greeks. Curiously, there is no indication that it was of anything but the usual construction and weight.
Goliath's coat of armor is massive at 125 lbs. Interestingly, the Hebrew term for it is shiryown qasqesethiym or "armor of scales". It is incorrect to translate the word as mail even though most English Bibles do. Mail is made of interlocked chains – a technique that was not used until the medieval period.
It might be some kind of scale armor, like that of a fish. It is certainly distinct from the shiryown that Saul offers to David (v 38) by its construction.
Like much in this passage, this term is isolated. We have no other texts to compare it to, so the actual meaning is basically lost. The best we have is guesses. We don't even know if the scales were actually part of the construction or were simply painted on (something that might have been the practice).
Interestingly, all of Goliath's armor is made of bronze. Only his spear (and apparently his sword) were made of iron. The skills for working iron had not been elevated to fine work yet. It could be made into long, striking implements like swords, spears and plows, but not into the smaller, more intricate elements required for helmets and breastplates.
Ironically, the one place Goliath did not have incredible armor on would have been his face. This is of course the place where David strikes. (By the way, one internet source notes the power of the sling: Projectiles can be slung over 1500 feet (450m) at speeds exceeding 250 miles per hour (400 kph) as well as noting that it could be used with tremendous accuracy.)
The Spear
An average war spear, particularly for someone fighting the style that Goliath advocates, would be about 8-9 feet tall with a shaft about 1.5″ in diameter. It would be tipped with a 10-12 lb head. Thus Goliath's spear, while larger than the normal head, is not gargantuan in scale.
Was Goliath really ten feet tall?
Robert Wadlow, the tallest man recorded in the modern era, was 8 ft, 11.1 in, tall. While impressive, Wadlow could barely stand on his own. What's more, his heart was strained to keep his blood circulating to his extremities.
André the Giant, a professional wrestler, was billed at 7 ft, 4 in, tall. Both he and Wadlow got their great height and massive size as a result of tumors on their pituitary glands which cause the glands to continue to produce human growth hormone long after it should. The condition is known as acromegaly.
People suffering from acromegaly can live relatively normal lives, but the type of hyperactive pituitary gland that would allow Goliath to grow to 9-10 feet tall would have also practically crippled him. He would have barely been able to stand, nonetheless heft 125 lbs of bronze armor.
That is not to say someone with acromegaly must be weak. Both Paul Wight (The Big Show) and Dalip Singh Rana (The Great Khali) have leveraged their size and strength as professional wrestlers. Rana in particular was a bodybuilder before becoming a wrestler and could benchpress 400 lbs easily.
But both Wight and Rana are 7 ft tall and have had corrective procedures to prevent their acromegaly from becoming worse. They have had their growth checked through medications and surgery. Again, it is hard to see someone suffering from acromegaly and growing to 9-10 ft having any sort of capacity for warfare.
These disorders are not the only reasons people become extremely tall. Manute Bol, who at 7 ft 7 in, is credited with being the tallest man to ever play professional sports, did not have acromegaly. He was simply genetically gifted. He claimed his parents were both very tall, and that his grandfather was 7 ft 10 in. But again, Manute Bol was impressive for his height, not his dexterity or strength. Bol was very slender, and certainly not a man who could carry 125 lbs of armor into battle.
Is there an alternative explanation? Yes, actually there is. Goliath most likely was a large man, probably well in excess of seven feet tall. It is not hard to imagine him being built like Dalip Singh Rana. Below is a picture of Rana from when he was a bodybuilder in India. It's not hard to figure out which one he is (all the men are standing by the way).
Goliath did not have to stand at 6 cubits, 1 span in order to be measured at that size. The description of Goliath, when read in Hebrew, is an awkward one. I'll transcribe it here:
waytz' iysh-habenayim mi-mahhanoth pelistiym GAL-YATH shamwo mi-gath gabhwo shesh 'amoth wa-zareth

וַיֵּצֵא אִישׁ־הַבֵּנַיִם מִ‍מַּחֲנוֹת פְּלִשְׁתִּים גָּלְיָת שְׁמוֹ מִ‍גַּת גָּבְהוֹ שֵׁשׁ אַמּוֹת וָזָרֶת
The term iysh-habenayim, translated as "champion", is literally formed from iysh or "man" and the dual form of beyn, which means "the two between". Like so many other terms associated with the Philistines, this word appears only here. It is as if the writer of 1 Samuel had to invent a term for what Goliath was doing.
Likewise, the description of his height, gabhwo shesh 'amoth wa-zareth, is an interesting phrase. Gabh means "height" and the -wo at the end is usually translated "whose" or "his" although it is simply a fixative and not a pronoun. It identifies the connection to Goliath, but it does not imply that this is his physical height.
In fact, in light of the rest of the description, it might be better to interpret the passage in terms of his impressiveness in terms of his fully armored state.
Allow me to put it another way. When you looked at Goliath, sheathed in armor and grieves, you saw everything including his spear. This means the height description might not just be his physical person but also his spear's height as well.
He was, after all, not just a man (ish). He was the man who stands between the two (iysh-habenayim) and that title seems to have come with the armor and the weaponry.
Why couldn't the height descriptor be of Goliath in all his regalia, thus including his spear? When the Hebrews wished to describe someone's physical height, they had perfectly capable descriptors as when they described Saul as head and shoulders above all other men.  Being a champion meant that Goliath was probably bigger and stronger than Saul, otherwise Saul would not have hesitated to fight him.
Goliath was a giant, no doubt about it, but in my opinion, he was probably around 7 feet tall, not 10. People disagree, and that's ok.
What's Wrong with the Picture at the Beginning of this Post?
A lot.
Goliath's spear is too short and the head is wrong. He is carrying an oblong shield, which doesn't really make any sense. A shield was a deflection weapon and was generally round or square. He's not wearing a javelin, but he is wearing some kind of metal kilt.
Also, David's sling is far too short. Also, David was the youngest son of a great man in Bethlehem. He would not have put on his classy bearskin skirt for a battle. I'd even buy that he was wearing an Egyptian kilt, but the Tarzan chic  was definitely not his chosen attire. I'd say they got his build right but I would make him taller.