This series of posts will explore the revisions to the Statement of Faith that will appear in the ruling documents of our merged congregation. These new statements reflect a commitment to the doctrine held historically by the church, but they have been written to be relevant and concise.
The chart below demonstrates the way we attempted to construct our statement of faith. Everything flows from the nature of God, through the Bible, illuminating for us both our sinfulness and the power of salvation and leading to our mission on earth as the Church of Christ.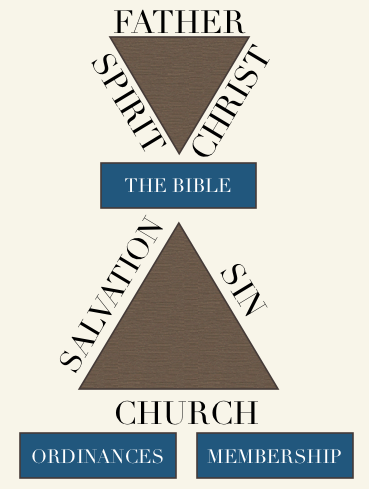 The first four sections of the Statement of Faith deal with God: God the Father, Jesus Christ God's Son, God the Spirit and the Divine Nature.
God the Father
We believe God the Father is the Creator, Preserver and Ruler of all things.
Explanation
Most Statements of Faith begin with either a statement on the Scriptures or on the Trinity. As the elders considered our beliefs, it occurred to us that the Scriptures themselves speak to a God who transcends them. Not only that, the Scriptures reflect an unfolding of the knowledge of God. At the beginning of the Scriptures, he is and never is not. God is necessary for the Scriptures to exist.
We wanted to develop our statement of faith in conformity with the revelation of God within the Scriptures themselves, so we began with God the Father as Creator, Preserver and Ruler. His perfection, his revelation and his redemption of mankind are inherent to everything about his dealings with us.